---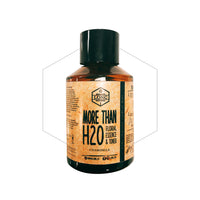 More Than H2O-Chamomile 德國洋金菊花水 [升級版]
LONC limited
MORE THAN H2O - CHAMOMILE
德國洋金菊花水 (升級版)

描述:有效鎮靜、抗消炎,同時可有效改善面部時常有發紅情況,特別適合敏感肌膚。
主成份:德國洋金菊純露、海藻萃取液、甘油、維他命E
容量:60ml

備註:
具有保濕及更生功效,讓肌膚緊緻飽滿,有助喚醒肌膚吸收能力,促進精華素及其他後續護膚品的吸收。
天然植物純露,澳洲進口,不含酒精。並在水漾配方中加入甘油及由海藻提煉的萃取液,更進一步加強全面保濕及潤澤肌膚,綻發年輕光采。

*加強滋潤裝,潔膚後作為爽膚水使用,也可浸濕化妝棉作為濕敷面膜。
保存期:全是新鮮製造,不含任何化學防腐劑,保存期較短約為四至六個月,但不會刺激肌膚,能帶給肌膚最天然及最溫和的呵護。並請儲存在陰暗及乾爽地方。
LONC產品安全可靠💯
❌不含人造香料或色素
❌不含SLS(乳化劑)或化學礦物油
❌不含苯甲酸酯, 丙二醇 (化學原料, 可能導致過敏的防腐劑)
❌不含類固醇
❌不經動物測試 - 愛地球,愛動物
Chamomile Floral Water gently cleanses, tones , soothes and calms the skin. Restores the natural pH level of skin while helping to retain the natural softness and radiance along with the fresh feeling. Chamomile helps to reduce redness and irritation of the skin and contributes to restoration of healthy skin. Suitable for prominently sensitive, irritates or inflamated skin and helps to deal with consequent skin problems as acne. Helps the skin and the mind to recover sense of peace and calmness. Calms and revitalizes sun kissed skin.
How to use:
1. Apply small amount on hands and pat into clean face and throat 
2. Apply on moist cotton and wipe in brisk upward motions.
For better result, 1.Immerse your paper mask in floral water, 2.and then apply it on face for 5-10 minutes after it is thoroughly soaked. Apply your moisturizer/skin care after applying the mask.

For all skin type + Face and body

Ingredients: Purified Water, Vegetable Glycerine, PEG-40 Hydrogenated Castor Oil, Potassium Sorbate, Lactic Acid, Chamomile Roman Oil, Dimethicone, PEG-40 Stearate, Sorbitan Stearate, Silica, Cellullose Gum