---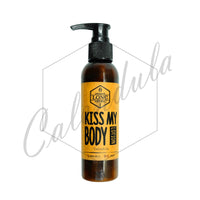 Kiss My Body (Calendula) 金盞花葡萄柚身體乳霜 ✨濕疹肌救星✨
LONC limited
KISS MY BODY (Calendula)
金盞花葡萄柚身體乳霜濕 ✨濕疹肌救星✨
描述:濕疹是異位性皮膚炎,屬常見的皮膚病,係香港平均五個人就有一個在不同時期受到濕疹所困擾。
濕疹多出現於面、頸、手肘、膝蓋和身軀部位,患者的皮膚會紅及乾燥,非常痕癢。嚴重甚至會形成小水泡。
要解決濕疹煩惱,除了保持肌膚清潔,保濕和滋潤也是重點,解決乾燥情況,才可舒緩痕癢問題。
LONC <KISS MY BODY>濕疹Body Lotion成份天然,大人及小朋友都可以安心使用,有效改善濕疹肌膚問題。

主成分:金盞花浸泡油、初榨乳木果脂、甘油、葡萄柚
容量:150ml
保存期:全是新鮮製造,不含任何化學防腐劑,保存期較短約為四至六個月,但不會刺激肌膚,能帶給肌膚最天然及最溫和的呵護。並請儲存在陰暗及乾爽地方。
LONC產品安全可靠💯
❌不含人造香料或色素
❌不含SLS(乳化劑)或化學礦物油
❌不含苯甲酸酯, 丙二醇 (化學原料, 可能導致過敏的防腐劑)
❌不含類固醇
❌不經動物測試 - 愛地球,愛動物
Kiss my body Calendula Body Lotion is soothing, nourishing cream, made with natural ingredients, that moisturizes dry, delicate skin. A light, hydrating body lotion that is safe for use on baby and kids, it's dermatologically proven to be skin-friendly, even on the most sensitive skin.
Free of parabens and synthetic preservatives, phthalates and chemical fragrances, petroleum derived ingredients and GMOs
Plant extracts and oils soothe and moisturize skin naturally
Natural calendula flower extract, soothes and wraps your child in a nurturing layer of warmth and comfort. A nutritive base of calendula oil ensures that the lotion is easily absorbed, while beeswax and shea butter smooth the skin and protect from dryness.
Ingredients: Calendula oil, cera alba, aqua, virgin shea butter, glycerol, grapefruit essential oil, oatmeal.
How to use: After a bath, apply Kiss my body Calendula Body Lotion to the skin and gently massage in. The lotion will absorb quickly.